About the Class IV non-surgical laser treatment
The Class IV laser treatment has been a remarkable tool for us in the treatment of pain and neurological conditions. Our cells have what are called "chromophores", which use specific wavelengths of light to speed up mitochondrial production of ATP. Think of this as racing fuel for your cells. The end result is greatly reduced healing time and increased capability.
Our aspen laser system is one of our most powerful tools at Carolina West Clinic. It gives us the ability to help people that are looking for a safer, non-invasive treatment for their problems that there may not be a simple "adjustment" for. While chiropractic is always recommended to our patients because of its host of health benefits, you are not required to be a chiropractic patient to pursue laser treatment at our office.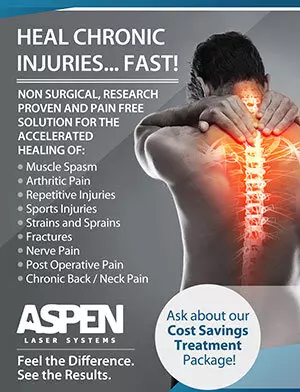 Heal Chronic Injuries… Fast!